5 tips to improve your networking
12/18/2019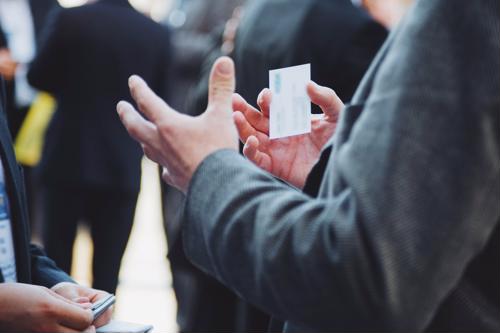 Like so many things in life, getting ahead in business is often all about who you know. For that reason, it's important to make networking a critical part of your everyday efforts, so you will always have options available to change jobs and otherwise advance your career in your chosen sector.
There are plenty of ways to make yourself a better networker overall, including the following:
1) Focus on one person at a time
One of the biggest mistakes you can make when you're networking is trying to juggle a number of different ongoing conversations at once, according to Entrepreneur magazine. Whether it's via email, phone call, text message or some other platform, it's a good idea to focus on one person so that they have your full attention and you're not getting important details mixed up over the course of a days-long conversation about your places in the industry.
2) No strings attached
You should never enter a networking conversation with your central idea being that the other person should help you find a new job opportunity or give you a recommendation just because you reached out, Entrepreneur advised. You need to build up a relationship first - so that the other person knows you would actually be a great candidate for a given job or, for your part, that they wouldn't steer you wrong. Going into any relationship thinking, "What's in it for me?" isn't a good idea, and that's definitely the case in networking.
3) Rely on social media
If you're not sure who you should reach out to in your networking efforts, the best candidates to provide you with advice or guidance are often those you meet online, according to the Kangan Institute. Simply reaching out to someone you follow on Twitter, Facebook, Instagram or LinkedIn can help you build the beginnings of a relationship that could end up being fruitful. By telling your own story initially, asking for advice and lowering your expectations, you might be able to make a great connection.
4) Let them introduce you to others
One of the best questions you can ask during networking conversations is, "Who's that?" and the reason why is simple, the Kangan Institute said. You probably know plenty of people in your industry who the other person doesn't know, and vice versa. Asking that question may help unlock even more networking opportunities for you, or the chance to start a three-way conversation that can be even more fruitful.
5) Make it a conversation
When having these discussions going forward it's important that you don't move on from people you started to network with, according to the Forbes Communication Council. You never know when you might need a person's help in the future, so it's a good idea to try to stay in touch and have an ongoing discussion - even one that you don't keep up every single day - so that you're never fully out of touch with your contacts, and you can always rely on them to have your back when needed.