5 things to keep in mind when onboarding an employee from another state
11/8/2021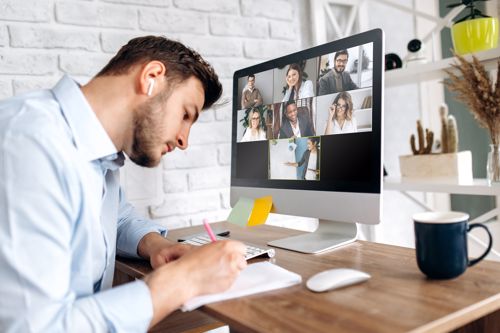 Competently onboarding employees leads to a successful integration of new hires into the company and the job. According to the Boston Consulting Group, it is even considered one of the most prominent and persuasive factors in the employee experience. However, the process of onboarding requires meticulous coordination and attention that can often be overlooked, especially when it comes to out-of-state employees.
Modern-day technology has allowed companies to increasingly offer remote work to potential candidates, but this has opened a whole other can of worms for company managers and their hiring process. As more companies offer the opportunity to work remotely and more employees embrace this change, it is essential for hiring managers and other supervisors to examine their approach to out-of-state onboarding.
Here are five things to consider when hiring and integrating an employee from another state:
1. Prep your new hire with the right tools
Before someone can successfully join the team, they need access to the company's tools. This includes giving new hires entry to your systems and showing them how the company communicates within itself successfully.
2. Consider the prospective time zones involved
Hiring employees from outside of the state involves the coordination of different schedules and time zones. Research from Blueface even suggests that remote work will rival office spaces by 2025, making the issue of time-zone organization even more crucial. Consider how these time zones will affect your collaboration with new hires, while respectfully approaching a solution to these time discrepancies.
3. Examine how different laws and tax requirements are affected
States have different payroll tax, wage, and hour requirements, and when onboarding remotely, it is critical to consider all of these governmental aspects. This includes the Fair Labor Standards Act which affects employment standards in the private sector, as well as in Federal, State and local governments. These inconsistencies can affect how overtime, exemptions, pay, record-keeping and more is managed individually.
4. Clearly communicate the values, objectives and expectations of the company
When onboarding any new employee, the establishment of clear communication is imperative. New hires have an unequivocally easier time adjusting to a new environment if they know exactly who they are working for and what they are doing there. Clearly demonstrating the company's objectives and how each new employee fits into that equation is a great way to start a new working relationship.
5. Create a friendly and supportive environment
Bringing in new employees is always most effective when they feel like they are a part of the team. Establishing an environment of support from team managers, peers, supervisors, executives and more is likely to foster feelings of optimism and, ultimately, result in longevity with new hires.
It's easy for a number of steps in the onboarding process to be overlooked, and while considering these ideas moving forward can be meticulous, it's important to get it right. Employees who feel supported and respected in your company are more likely to be a loyal member of your team. More than this, a collectively successful immersion process is key to maintaining productivity and enthusiasm throughout the organization. While it may seem slightly arduous to examine all aspects of the remote onboarding process, it is undeniably worthwhile for the company, as well as employee morale, in the long run!