A look at the employment outlook in 2022
11/19/2021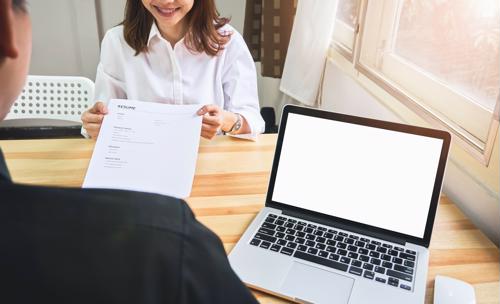 Unemployment rates have reached historic levels over the past few years as a result of the pandemic and ongoing labor shortages. According to a 2021 Knoema report on the U.S. unemployment forecast from 2021-2026, these rates skyrocketed to 14.7% in April 2020, the highest annual rate since 2012. Despite these record highs, unemployment has declined steadily since then and this trend is expected to continue. As the year comes to a close, here is the predicted staffing outlook for 2022.
Staffing projections
Not only are employers dealing with the consequences of a national health crisis, but they are also actively combating ongoing labor shortages. These shortages are mostly attributed to changing demographics, immigration limits, and demands for better working conditions.
Regardless of these current trends and issues, a 2021 Bureau of Labor Statistics (BLS) report on employment projections from 2020-2030 predicts that total employment will grow from 153.5 million to 165.4 million. This is an increase of 11.9 million jobs and reflects an annual growth rate of 0.7%. Along with these projections, and the assumption that more and more people will be finding work in the coming year, comes a 2021 report by Statista predicting a future unemployment rate of 3.8%.
Growing industries
As unemployment rates fall and more people find work, there are some industries that are expected to see the quickest growth in the coming years. We've highlighted a few of these growing fields to understand the reason behind these trends of expansion.
1) Health care
Employment in health care occupations is expected to grow not only as a result of the pandemic but also due to an aging population and, therefore, higher demand for different medical services. The BLS projects growth of 16% within the next decade, which will add approximately 2.6 million jobs.
2) Technology
The tech field has been quickly advancing over the years, and stay-at-home orders throughout the COVID-19 pandemic only heightened the workforce's dependence on technology. As remote workers increase throughout different industries, the need for information technology workers continues to grow as well.
3) Construction
Construction has remained an integral industry over the years, and as we continue to build throughout the country, this industry growth is expected to keep up. Most likely due to the development of urban areas and other improvement projects, the BLS projects an employment rate increase of 7% from 2020 to 2030. This is especially true for specific types of construction, including civil engineering.
While many industries and businesses continue to recover from the consequences of the pandemic and combat the ongoing labor shortage, it will be beneficial to keep these projections in mind. However, the general staffing outlook for 2022 is optimistic. Several fields are expected to see growth, which means unemployment rates are predicted to fall. It's important to note that a growing economy can also have a large impact on employers because as more jobs become available, it becomes harder to attract and retain talent. It may be valuable for organizations to review their internal structures and determine what the best steps are for appealing to this growing workforce.