7 tips for better body language in a job interview
5/4/2021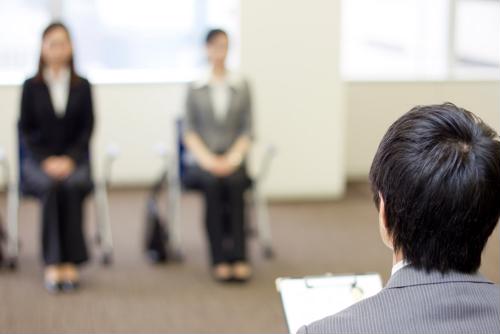 When it comes to any job interview, you obviously want to make the best possible impression, building on the qualifications that landed you the interview in the first place. One of the best ways to really impress your interviewer — and anyone else you meet in the course of your visit — is with top-notch body language. It says more than you might realize and it can be the difference between you getting hired or not.
With that in mind, the following tips for body language are likely to be vital to your success in an interview setting:
1) Start with a handshake
A great first impression starts with a great handshake, according to The Balance Careers. Getting it just right isn't always easy, but as a general rule, you want to avoid being too limp or weak, but also don't want to crush your interviewer's hand. If you're not sure what "feels" right, practice with a friend or family member. They'll help you perfect it.
2) Sit properly
It's like your teachers always told you in school: Sit up straight and you'll seem like you're paying more attention, The Balance Careers added. That means no slouching, back touching the back of the chair, shoulders back and so on. Good posture creates the right impression for you.
3) Make eye contact
Some people aren't great with making eye contact when they speak, but it's something that many interviewers will at least subconsciously take note of, according to Mashable. As such, strive to maintain eye contact when speaking or being spoken to, breaking it when appropriate to take notes.
4) Keep your feet on the ground
While you certainly don't want to come across as tense and nervous in an interview, it's also best to avoid seeing too relaxed, Mashable said. As such, something as simple as not crossing your legs and keeping your feet planted firmly on the floor can actually make a great impression.
5) Sit still
In any kind of meeting, it can be tempting to fidget and otherwise continually try to get comfortable but in a job interview, this will come across as nerves or not paying attention, according to career expert Caroline Castrillon, writing for Forbes. Instead, aim to sit still and really focus in on the conversation at hand.
6) Smile when appropriate
Smiling is a great way to show that you're engaged with the entire interview and on the same page with what's being said, Castrillon noted. Of course, you don't want to smile too much or when it feels inappropriate, but smiling gently should be your default setting.
7) Nod along
Finally, another great way to show you're paying attention and are on the same wavelength as the interviewer is to nod or affirm that you get what they're saying, Castrillon further recommended. This could be as simple as saying, "Sure," or "Yes," when it makes sense. This will generally help the hiring manager feel better about the prospect of bringing you aboard.