7 things to think about for in-person interviews after COVID
5/7/2021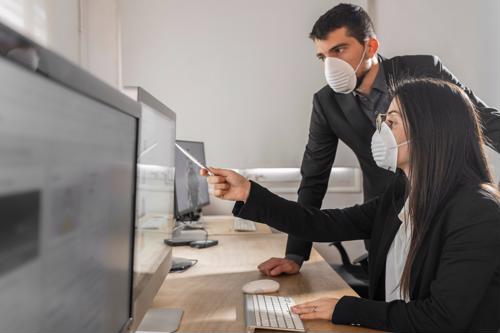 With vaccine distribution gaining major traction across the U.S. and many companies coming back to work in the office on a more permanent basis, it may be tempting to start holding in-person job interviews as well. However, this might not be something you want to dive into headfirst, even if you have plenty of open positions to fill.
Instead, consider the following tips for hosting candidates in your office, so everyone is as safe from risk as possible:
1) Give interviewees a virtual option
First and foremost, you have to recognize that after a year-plus of staying home, many people may not yet be fully comfortable with returning to an office setting, according to the Occupational Safety and Health Administration. Even if it's just for a few hours or into an office with relatively few other people, it's still a good idea to pivot to video interviews as needed for the time being.
2) Provide opportunities for hand-washing and sanitization
Even if people are perfectly happy coming to your facility, it's important that hygiene is highly conspicuous, OSHA cautioned. Having ample hand sanitizer available and giving interviewees a few extra minutes to wash their hands is going to help keep everyone safe and comfortable.
3) Keep practicing social distancing
Likewise, you shouldn't be jamming multiple people into a conference room for an interview, and should leave plenty of space between the people in any room, OSHA further warned. That way, even if people are vaccinated, risk is kept to a minimum.
4) Wear a mask
Health experts also recommend that you should still be wearing masks indoors for the foreseeable future, and here too, that's true even if you're vaccinated, according to the Society for Human Resource Management. Again, this is just to keep risk down, but it can also help people who might be somewhat nervous about in-person meetings feel more at-ease.
5) Do a symptom check daily
Even if you're returning to in-person work, you can't shirk the responsibility to check on employees' and interviewees' health on a daily basis, the SHRM added. Most people know the symptoms by now, so if they're feeling under the weather, they should stay home.
6) Follow all state and local laws
Your company no doubt has a number of state and local rules around indoor gatherings that are still in effect, and these must be followed to the letter, according to World of Employment. These regulations exist for health and safety reasons, and there's no point in trying to cut corners, especially when welcoming new people into your office.
7) Don't bring them into a packed office
Finally, it's important that you are not back to 100% capacity for your in-person work when also hosting additional people, World of Employment said. You don't want to either make some uncomfortable with how many people are working in close quarters together, or exceed advisable limits for people under one roof. As with everything else in the past 15 months or so, it's better to err on the side of caution.